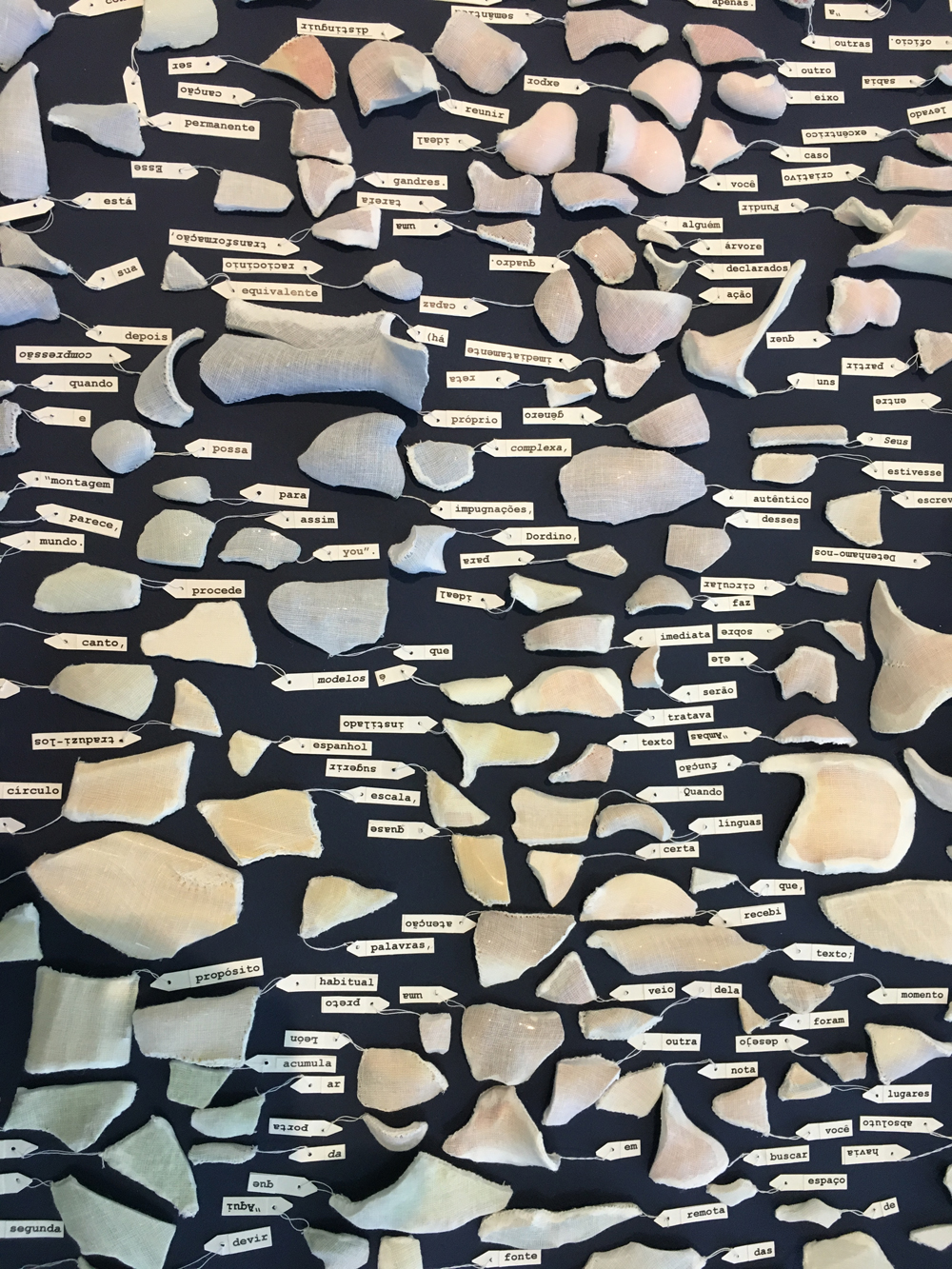 Legenda: Claudia Fontes, Nota al pie [Footnote], 2018. ©Courtesy of the artist. Photo: Bernard G. Mills
For her exhibition titled O pássaro lento [The Slow Bird], Claudia Fontes draws on a metanarrative: a fictional book of the same title whose content is unknown, except for some fragments and a few material remains. Both Fontes and her invited artists present artworks that activate links between the visual arts, literature and translation, through experiences that propose an expanded temporality:
The Ciccillo Matarazzo Pavilion is a meeting point for human and nonhuman life, each with almost completely opposed temporalities and ways of being in the world. This exhibition takes this polarity as a premise and proposes the image of a slow bird as an antidote to the ideal of velocity which the building represents, with the aim of creating conditions of observation that attract and retain the visitor's attentive reading. The Slow Bird does not operate in this exhibition as a theme or idea to be illustrated, but rather as an ambiguous figure offered as a common territory from which the invited artists began unique and mutually diverse creative processes. Accompanying the works, there is a detective story that reveals aspects of the curatorial flight of the slow bird: considering the spectator as a reader, the curator as a translator, the artistic fact as evidence of an enigma, and the certainty that this enigma has as many possible solutions as the story has readers. [CF]

   
Participating artists
Ben Rivers (UK, 1972)
Claudia Fontes (ARG, 1964)
Daniel Bozhkov (BUL/EUA, 1959)
Elba Bairon (BOL, 1947)
Katrín Sigurdardóttir (ISL/EUA, 1967)
Pablo Martín Ruiz (ARG, 1964)
Paola Sferco (ARG, 1974)
Roderick Hietbrink (HOL, 1975)
Sebastián Castagna (ARG, 1965)
Žilvinas Landzbergas (LTU, 1979)
The Locked-Room Mistery
Commissioned from Pablo Martín Ruiz for the 33rd Bienal, this is a detective story that works transversally in relation to all other
artworks in The Slow Bird. Available for online reading in English, Spanish and Portuguese. 
---